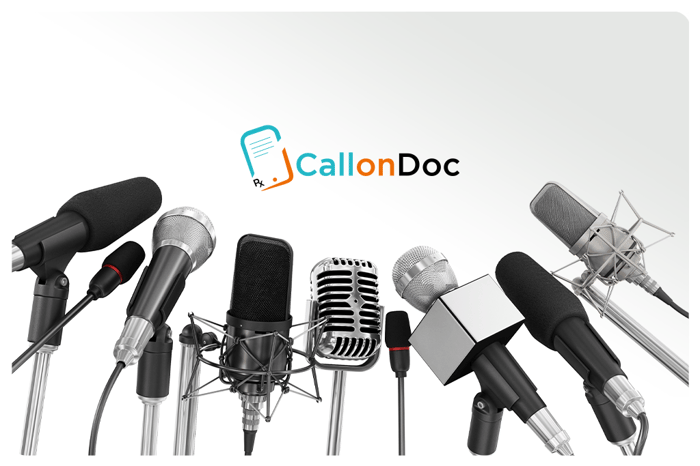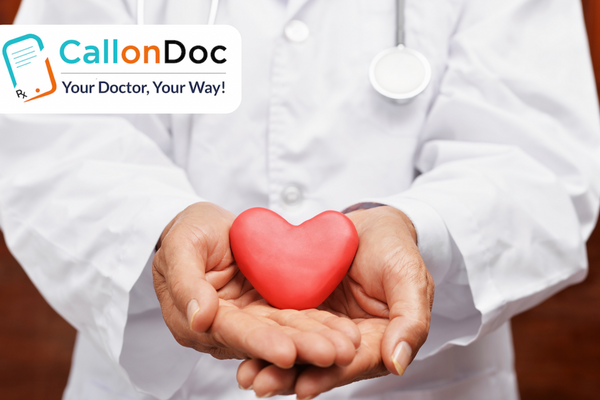 Call-On-Doc Provides Healthcare Support to those Affected by Hurricane Ian
Call-On-Doc is helping those affected by Hurricane Ian by providing immediate access to healthcare. Call-On-Doc is offering same day online visits and prescriptions for relief and availability to care.
Call-On-Doc, America's highest rated telemedicine company, is supporting patients affected by Hurricane Ian with fifty percent off consultations and prescription refill services to help those in need of or without access to their medications.

"Patients who take regular prescriptions or those who need access to care must have options available now," said Call-On-Doc Founder and CEO TJ Oshun. "During these uncertain times, Call-On-Doc wants to offer relief and immediate availability to healthcare."

To learn more, click here.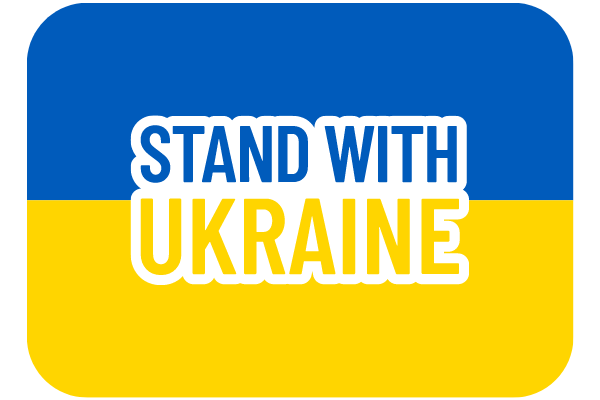 Call-On-Doc Raised and Matched a total of $8,300 for Stand With Ukraine
Call-On-Doc, America's highest rated telemedicine provider raised and matched a total of $8,300 for Stand With Ukraine. The GoFundMe fundraiser will provide an immediate impact on refugee and humanitarian aid efforts.
"While Call-On-Doc wants to make an impact on American healthcare by providing easily accessible and affordable care for all Americans, we stand to together to support those from other countries in need," said Call-On-Doc Founder and CEO TJ Oshun. "Call-On-Doc is proud to help fundraise in attempt to provide relief and make a difference to those affected during this time."
So far a total of $36,665,500 has been raised exceeding the 30 million goal set by Mila Kunas and Ashton Kutcher. The Stand With Ukraine fund will benefit Flexport.org and Airbnb.org, two organizations who are actively on the ground providing immediate help to those who need it most.
Flexport.org is organizing shipments of relief supplies to refugee sites in Poland, Romania, Hungary, Slovakia and Moldova while Airbnb.org is providing free, short-term housing to refugees fleeing Ukraine.
Call-On-Doc patients had the option to donate to the cause upon consultation checkout, where a total of 619 patients contributed $4,150. Call-On-Doc has also matched the collection for Stand With Ukraine for a total of $8,300.
To learn more about the GoFundMe, Stand With Ukraine, as well as contribute, click here.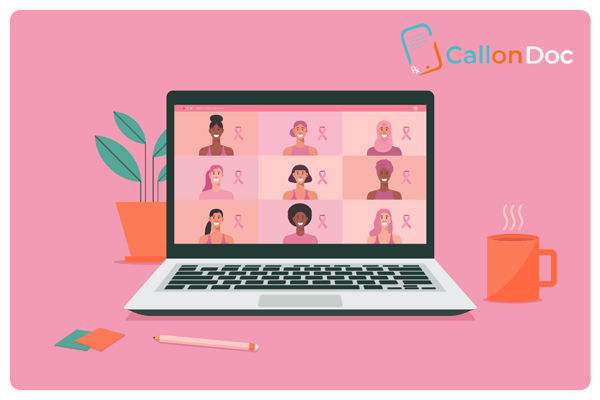 Call-On-Doc Donates Mental Health Treatment to Partner National Breast Cancer Foundation
Call-On-Doc recently raised and donated $5,000 to partner with NBCF during Breast Cancer Awareness Month. America's highest rated telemedicine provider, Call-On-Doc, aims to provide a resource and mental health relief to patients who have breast cancer and struggle with stress accompanied with their diagnosis.
Many breast cancer patients have had to face chemo and doctor appointments alone due to the pandemic, which can create isolation in their time of needed support. Also the uncertainty, fear of unsuccessful treatment, and feeling like you have no one to talk to can negatively affect every aspect of a patient's emotional and mental wellbeing. This is why Call-On-Doc has also donated its mental health services to the value of $468,000 in free mental health visits.
Call-On-Doc hopes that this donation can contribute to the 18,709 mammograms and diagnostic screens and education for over 40,000 women that National Breast Cancer Foundation (NBCF) has already provided in 2021.
Call-On-Doc Founder and CEO TJ Oshun has expressed his dedication to supporting patients throughout their breast cancer journey by giving them access to virtual doctor's visits. This will minimize their exposure to additional health risks, reduce their costs, and hopefully encourage them to reach out for the assurances or explanations they need.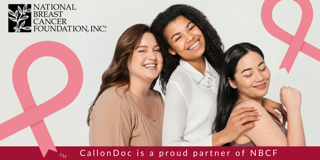 As an online medical care provider, CallonDoc offers consultations with board-certified medical doctors and medication prescriptions for conditions under eight main categories: men's health, women's health, pediatrics, urgent care, dermatology, STDs, psychiatry and chronic healthcare.
All patients have to do is create an account, fill in a short questionnaire, and access personalized healthcare instantly online 24/7. Call-On-Doc also offers other visits at a discount to those supported by NBCF.
Read the full press release for more information on how Call-On-Doc assists breast cancer awareness and how you can help by donating towards breast cancer foundations and those offering accompanying mental health care.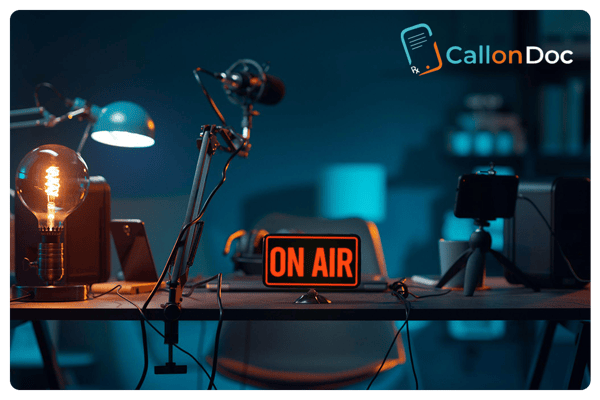 Call-On-Doc Sponsors Red Eye Radio
Call-On-Doc, America's highest-rated telemedicine provider, will be meeting with truck drivers at the 50th anniversary of the Mid-America Trucking Show on March 24th-26th.
Call-On-Doc, which sponsors Red Eye Radio, offers virtual medical care to people all over America. At this year's Mid-America Trucking Show (MATS), CallonDoc representatives will be introducing truck drivers to a more efficient form of doctor's consultation.
On the broadcasted podcast interview, Red Eye Radio host Eric Harley applauded the benefits of Call-On-Doc for truckers who don't have the time to stop and wait for an appointment. By using Call-On-Doc, they'll have instant access to board-certified physicians who treat over 70 conditions by form, phone or video visit. These conditions fall under eight main categories: men's health, women's health, pediatrics, urgent care, dermatology, STDs, psychiatry and chronic healthcare.
Once they've completed the consultation, truck drivers can collect their prescribed medication from any US pharmacy in one to two hours.
This year's MATS will be held in Louisville, Kentucky. Besides being attended by over 70,000 professional truckers, the three-day show will feature award-winning country musicians. Call-On-Doc personnel will also be on site helping truckers register their accounts so they can have instant access to medical help whenever they need it. They'll also be offered a complimentary consultation to the value of $39.99.
Once their accounts are up and running, truck drivers will be able to select their condition, fill out a short questionnaire, and be prescribed the right medication within hours. Call-On-Doc spokesperson Bailey Bryan believes Call-On-Doc's unparalleled level of care and convenience will benefit truckers who often spend days on the road without rest.
Call-On-Doc caters to anyone in need of affordable, convenient medical care, regardless of profession. Read the full press release to learn more about Call-On-Doc as heard on Red Eye Radio.
Read the full press release to learn more.
Call-On-Doc, one of the highest-rated telemedicine companies in the country, has partnered with National Breast Cancer Foundation, Inc., recognized as one of the leading breast cancer organizations in the world, to raise funds for breast cancer support during the month of October.
National Breast Cancer Foundation is a recipient of Charity Navigator's highest 4-star rating for 15 years. NBCF provides support through their National Mammography Program, Patient Navigation, breast health education, and patient support programs.
"NBCF is excited to partner with Call-On-Doc for Breast Cancer Awareness Month to bring awareness and raise funds for those battling breast cancer," said Director of Strategic Partnerships for NBCF, Brooke Adams. "The funds raised from this campaign will help women and their families with the current breast cancer screening crisis." More
Call-On-Doc, one of the highest rated telemedicine companies in the country, has partnered with Trucker Path, an app connecting the largest community of truckers to improve life on the road, to make healthcare easier and more convenient for drivers.
"It's difficult for drivers to maintain prescriptions and doctor's visits," said National Accounts Manager, Kelly Drier. "We want to help make the driver's time on the road as comfortable as possible and it's convenient to use the service in the app."
As of July 2021, Call-On-Doc is available on the Trucker Path app for convenient one-touch-of-the-button online doctor access. This partnership allows drivers the ability to quickly submit their healthcare requests to the Call-On-Doc doctors and get their needed prescription or Rx refills from any pharmacy on route. More
"Telehealth took on a whole new importance in 2020, with the pandemic making virtual doctor visits an excellent alternative to spending time in a crowded clinic waiting room.
However, there's a lot more to telehealth than screenings for Covid-19 and diagnosing simple issues like ear infections.
As the demand for telehealth services grows, certain providers are taking the lead with innovative service and more extensive service offerings. But to really succeed, telehealth providers have to go even further—balancing the convenience of their technology with exceptional patient care." More
Call-On-Doc is waiving its fee (usually $39.99) to provide free medical consultations to Americans stuck at home, even for medical needs unrelated to the coronavirus.
Through the service, you fill out an online medical questionnaire about your symptoms or health needs and within two hours Call-On-Doc's medical team reviews your submission and can send prescriptions to the pharmacy for you.
The service may be especially helpful for those who need to refill a prescription while stay-at-home orders are in effect and don't have a regular doctor. More
Going to a doctor's office for a minor test or consult can be tiresome. One of the ways Call-On-Doc is making this process easier, besides offering online doctor's consultations, is by providing at-home test kits for various conditions.
Call-On-Doc's at-home tests can screen for diabetes, thyroid issues, kidney/liver function, sexually transmitted diseases, and many other conditions, all from home.
After following test instructions and returning the completed test kit to a lab, users can expect results and online treatment, if needed, in three to five days.
This allows people from rural or underserved areas and those who don't have the time to spend hours in a waiting room to access quick, efficient, and simple-to-use screening services from home. Once results are posted, patients can also review with a doctor and discuss treatment options.
Around 67% of patients in the U.S. cannot access proper lab testing. By offering these at-home testing kits with free delivery, Call-On-Doc makes simple, quick healthcare and advice accessible to anyone with an internet connection.
The board-certified physicians that work with Call-On-Doc offer all the personalization and care of an in-person doctor's visit, paired with the convenience and sense of privacy of discussing your treatment and condition online.
Call-On-Doc was created by a husband and wife phsycian team in 2017. Today, it is the highest-rated telemedicine service in the country and has received nearly 260,000 5-star reviews.
The service is available for over 70 conditions, including chronic health conditions, mental health treatment, STDs, and more! All services are available 24/7 and 365 days a year for patients anytime, anywhere!
Read the full press release to learn more about getting at-home test kits from Call-On-Doc.